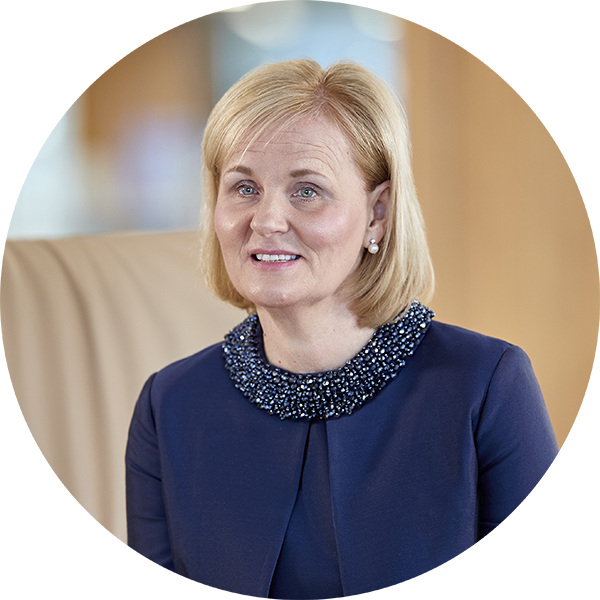 My ambitions for Aviva are BIG. With the right strategic focus, a commitment to high performance and unwavering financial discipline, we will maintain our position as the UK's leading Insurance, Wealth and Retirement business.

Our investors, customers and people expect action, progress and improvement. And we are going to give it to them.
Amanda Blanc is the Group CEO of Aviva, the UK's leading insurance, wealth and retirement business. 

Amanda was born and bred in Wales, having grown up in the Rhondda Valley, and many of her family still live there. 
She started her career as a graduate at one of Aviva's ancestor companies, Commercial Union. Following success in senior executive roles across the insurance industry, she came back to Aviva as CEO in July 2020.
Priorities at Aviva
Amanda has greatly simplified Aviva, successfully divesting eight non-core businesses. Aviva is now focused on our core markets in the UK, Ireland and Canada. Amanda has also overseen a significant strengthening of Aviva's financial position. 
Amanda is now focused on accelerating Aviva's performance: capitalising on the structural growth opportunities in our core markets; providing customers with a simpler, more personalised offering; transforming our cost base and delivering our market-leading sustainability commitments. Aviva is the first major insurer in the world to target becoming net zero by 2040. 
Watch Amanda's third quarter 2022 trading update video:
Transcript
Kofi Eschoe-Wilson
Hi, Amanda. Good morning. How are you doing today?
Amanda Blanc
I am good, Kofi. How are you?
Kofi Eschoe-Wilson
Yes, I'm good. Aside from the train discourse, I'm here. It's a bright morning so I'm raring to go.
Amanda Blanc
Well it's really fantastic to see you here. Normally I see you on a screen somewhere, so it's fantastic that you're in the office.
Kofi Eschoe-Wilson
Thank you for talking to me today about our third quarter trading. Have we made any good progress since our half year results?
Amanda Blanc
We have made good progress. Despite the fact that we've seen quite a lot of political and economic volatility, particularly here in the UK. Actually Aviva this morning has confirmed some brilliant results I think. What you see from this morning's results is a real benefit of our diversified business model.
So, we've got strong growth in a number of areas. And we're also reconfirming our dividend
and capital returns plans that we laid out in March and August. So all in all another strong
quarter for Aviva.
Kofi Eschoe-Wilson
Thank you, Amanda. At half year we talked a lot about our strategic priorities, how are we doing against them at quarter three?
Amanda Blanc
So we're making good progress against our four priorities.
So let's start with customer. Obviously customer is at the heart of everything that we do at Aviva and we've been thinking a lot about how we can help our customers during this difficult time. So we've launched some more affordable propositions from motor and home
and we're really pleased with that and we're seeing really good uptake
of those products. So that's clearly landing with customers which is really great news. I'm also incredibly proud of the partnerships that we've created with Citizens Advice and also the Money Advice trust which is £9 million of investment to help customers and businesses through what is obviously going to be an incredibly difficult time.
Our second priority is growth. And we've seen strong growth in Wealth, Retirement and Insurance. I'm particularly pleased about growth in some of the key areas for us. So net flows, particularly in our Workplace pensions business. We've seen strong growth in Health and Protection and also in our Commercial Lines business in Canada and in the UK.
We've also completed the acquisition of Succession Wealth and that really helps our growth
in the wealth business because it gives us really high-quality advice that our customers we believe need.
So our third priority area is obviously around efficiency and we are on track to deliver the £750 million gross of inflation efficiency targets that we put in place in March of this year by 2024. There has been good progress around cost reduction across all areas of the business and particularly Aviva Investors have made some excellent progress in the last quarter announcing a significant outsourcing deal.
So I think bearing in mind the difficult environment that we're in we've made great progress here.
And finally on sustainability. We've been awarded number one European financial institution for the new world Benchmarking Alliance Financial System Benchmark.
Obviously we've got a strong history in ESG but that is a real benchmark and a real opportunity for us to play an important part in this important topic, which is something
I'm incredibly proud of.
Kofi Eschoe-Wilson
Thanks, Amanda. And finally are you optimistic about 2023?
Amanda Blanc
I am optimistic because I think what you've seen in the last quarter is that our trading
has been very positive. The third quarter numbers are strong. We're under no illusions that the backdrop is clearly very difficult economically, but we are really confident in the outlook
for Aviva.
We believe that we can excel and deliver on the promises that we have laid out. Our position is strong. Our model is resilient. And we're delivering on the strategy.
Kofi Eschoe-Wilson
Any messages to colleagues as we come to the end of the year?
Amanda Blanc
I have. What I would say is look at what we've achieved so far this year. Really strong results despite everything else that is going on.
We've got great performance across all of our key areas: growth, customer, efficiency and sustainability. I would say to them keep going to the end of the year.
I know it's hard work, but look at what we have achieved so far, there's so much more that could be done.
And I would just also want to say obviously, thank you.
Kofi Eschoe-Wilson
Fantastic, thanks a lot for your time today.
Career highlights
Amanda was formerly Group CEO at AXA UK, PPP & Ireland and CEO Europe, Middle East, Africa & Global Banking at Zurich Insurance Group. She also held executive leadership positions at Towergate Insurance Brokers, Groupama Insurance Company and Commercial Union. 
She has previously served as Chair of the Association of British Insurers, Chair of the Insurance Fraud Bureau and President of the Chartered Insurance Institute. 
In 2022, Amanda was included in the Financial Times 25 most influential women of 2022 and in January 2023 named as The Sunday Times business person of the year. Download the article here.
Qualifications and responsibilities
Amanda is an Associate of the Chartered Insurance Institute and has an MBA from Leeds University. She also holds a BA (hons) in history from the University of Liverpool.
In 2020 Amanda led the Government's independent review into flood insurance. 
In 2021, she was appointed by HM Treasury to the role of Women in Finance Charter Champion and has worked with Bain & Company to design an industry-first blueprint with practical recommendations that organisations can use to boost representation across Financial Services.
Amanda was also elected to join the Geneva Association Board, and she is a member of the UK Government's Financial Services Trade Advisory Group. 
In 2022, Amanda joined the Prime Minister's Business Council, which brings together industry leaders to boost jobs and unlock investment, accelerate net zero ambitions, and promote Global Britain. 
Amanda is also Co-Chair of the UK Transition Taskforce, which is developing a gold standard for private sector climate transition plans.
On 1 September 2022 Amanda joined the Board of BP plc, a company listed on the LSE, Frankfurt Stock Exchange and NYSE, as a Non-Executive Director. Amanda will join the BP plc Remuneration Committee and People and Governance Committee as at the 1st January 2023.
You can download a photograph of Amanda from Flickr.
Amanda on CNBC - 2 March 2022
Amanda was interviewed on CNBC about our full year financial results. 
Amanda Blanc, Group CEO Aviva
CNBC
2 March 2022
This transcript is made using a blend of speech recognition software and human transcription and may contain errors. Please cross-reference with the audio before quoting anything contained below.
CNBC: We've got Aviva numbers coming through here, so let me just walk you through some of the highlights from these figures.
Excuse me, the Group giving us an operating profit line of £2.2 billion as against £3.16 billion for the 2020 period.
The Group says that largely reflects lower operating profit from discontinued operations. 
The IFRS profit for the year, a little over £2 billion, for 2020 it was £2.9 billion.
The Group says continuing operations profit, rather operating profit from continuing operations, down 10% to £1.6 billion.
The strong performance in General Insurance offset by lower operating profit from the UK and Ireland Life.
The Group says we are going to, let's have a look, estimate the circa 40% increase in 2020 dividend per share to 31 spot 5 pence.
The Group targeting a total capital return of £4.75 billion sterling, which is ahead of the £4 billion that I believe was committed.
Dividends up, targets up, substantial capital return is the headline for Aviva.
Let's get to CEO Amanda Blanc for more on these numbers. Amanda, good morning to you here. Well that £4.75 billion is somewhat higher than you'd previously signalled. Why have you decided to raise the return?
Amanda Blanc: Morning Jeff. Really good to be with you this morning. 
Well yes, I mean, we always said that we would return at least £4 billion, and you know the board has looked at our position over the over the last few months and we've got a very strong position. You can see from the results this morning. So we decided to return the £4.75 billion.
We sold eight businesses last year and for £7.5 billion and with the reduction in debt and the £4.75 billion return, we will have returned the money to shareholders that we said we would.
CNBC: To what extent were you prompted to do that by the criticism from Cevian that we know argued that £4 billion was too low?
Amanda Blanc: So we didn't see that as criticism. You know, it was a point of view and we listened to all of our investors, but actually we made the decision based upon our results, based upon the surplus capital within the business and based upon the strong operating momentum that you've seen in the results that we've delivered this morning.
CNBC: Can we talk a bit more then about operational expectations for full year 2022? What guidance are you giving the market here as to your new targets?
Amanda Blanc: Yeah, so basically, we've got three new targets this morning. One is an upgrade on our cost reduction target, where we're taking the cost reduction target to £750 million gross of inflation. 
We're giving a new target on operating funds generated of £1.5 billion by 2024. 
And we're also upgrading our cash remittance target to greater than £5.4 billion by 2024 so I think it shows the confidence that we have in the business for growth and to continue the strong performance that we're already delivering. 
CNBC: And can we talk about the lower operating profit from the UK and Ireland Life which you've flagged up in the numbers. What action is being taken to improve performance? 
Amanda Blanc: Yeah, so look some of that was driven by market conditions so lower spreads drives a lower margin in the bulk purchase annuity business, and I think that's to be expected. And we're saying that that will continue as we go forward as the market normalizes.
But also there's less one-off actions, and so actually the underlying performance is pretty strong and the way that we look at the performance of the business is really around the cash remittances from the business, which are up 22% in 2021. So we see that as being a sort of really strong indicator of performance, particularly for an insurance company.
CNBC: Amanda, obviously you don't operate in a vacuum, so it'll be useful, I think, just to address some of the current threats to performance this year. 
It does appear that central banks are rethinking the glide path for interest rates this year. Based on the potential shock we see from sanctions on the Russian financial system and higher oil prices, and generally higher risk of inflation, or possibly stagflation. 
How are you trying to put that into your numbers as you think about what lower interest rates in the UK would mean this year for Aviva?
Amanda Blanc: Yes, so obviously we're always looking at the sensitivity to interest rates, and you know there's loads of detail on that in in our results today, but you know, generally, of course we've been operating in a low interest rate environment, so it's something that we're pretty familiar with. 
You know, the issue around inflation is really more the impact on our customers, and what does that do to our customers? So we've seen very strong savings flows in 2020 and 2021, and you know, it's whether customers will need to make choices as we would expect them to around what they're going to spend their money on, so that potentially impacts our flows. 
And obviously the P&L is impacted by higher supply costs and also higher wage inflation, and that's something that we are factoring into our numbers as we sit here today.
CNBC: Yeah, and obviously Aviva owns financial assets as part of the portfolios you run. I believe that exposure to Russia is negligible, but could you just give us a sense of the character of your exposure to that country and to the sanctions? 
Amanda Blanc: Yeah, so we have some very, very minimal exposure to Russia through our Aviva Investors business. And you know, our plan will be to exit that as soon as we possibly can.
CNBC: Alright Amanda, it's been good catching up. Thank you so much for joining us and walking us through the numbers and best of luck with the coming period. Amanda Blanc, the CEO of Aviva.
Amanda Blanc: Thank you.