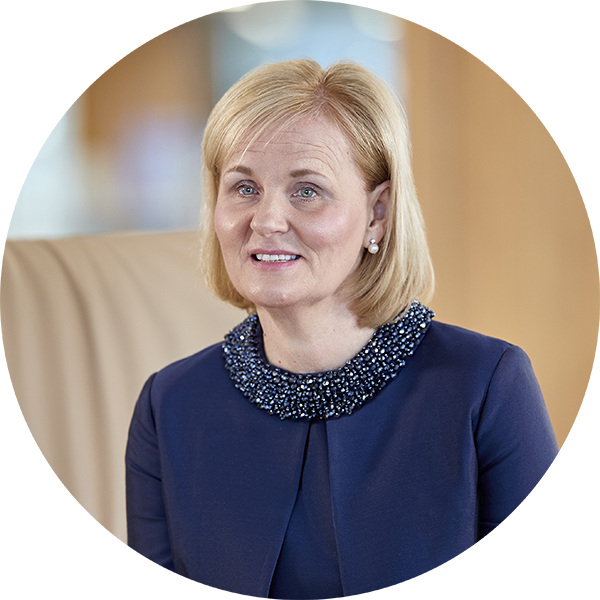 We have radically simplified Aviva, we are financially strong and we are utterly focused on transforming and growing the business. Whilst I am pleased with what's been accomplished, I am clear there is significantly more value which Aviva can and will deliver in 2023 and beyond.
Amanda Blanc is the Group CEO of Aviva, the UK's leading insurance, wealth and retirement business. 

Amanda was born and bred in Wales, having grown up in the Rhondda Valley, and many of her family still live there. 
She started her career as a graduate at one of Aviva's ancestor companies, Commercial Union. Following success in senior executive roles across the insurance industry, she came back to Aviva as CEO in July 2020.
Priorities at Aviva
Amanda has greatly simplified Aviva, successfully divesting eight non-core businesses. Aviva is now focused on our core markets in the UK, Ireland and Canada. Amanda has also overseen a significant strengthening of Aviva's financial position. 
Amanda is now focused on accelerating Aviva's performance: capitalising on the structural growth opportunities in our core markets; providing customers with a simpler, more personalised offering; transforming our cost base and delivering our market-leading sustainability commitments. Aviva is the first major insurer in the world to target becoming net zero by 2040. 
Watch our Group CEO, Amanda Blanc's 2023 first quarter trading update video:
Transcript
Hello everyone. I'm pleased to share our latest trading update with you.
An update that reflects the hard work of all of our people. We can only present these results because of what they do every day. So, a very big thank you to the Aviva team.
It's been another quarter of great progress for Aviva, demonstrating once again that our strategy, and the diversified business model we have built, is the right one.
We've posted excellent trading results this morning, delivering strong growth across key product lines in Insurance, Wealth and Retirement.
Our capital position remains solid. Costs continue to fall and our £300m share buyback is nearing completion.
We remain on track to hit our cost savings target, and we're confident we'll beat our cash remittance and OFG targets. This will support our growing dividend, and we anticipate supplementing this with further regular and sustainable capital returns in the future.
We're fully focused on our four strategic priorities and we've continued to make progress against each of them.
Putting customers first is central to our strategy, and we're continuing to deliver for them.
This includes launching a new restricted advice offering in Succession Wealth, and a new digital direct product in Canada through our RBC partnership.
And we've been supporting customers in the UK through short-term financial difficulties, while ensuring their coverage continues.
On growth, it's been another excellent quarter for Aviva.
We've delivered double-digit growth in General Insurance, with strong pricing discipline.
Health and Protection also grew by double digits as customer demand continues.
Wealth net flows remain resilient, with a particularly good performance in Workplace.
In Retirement, BPA volumes were up in the quarter as we wrote the £850m Arcadia scheme.
Aviva Investors delivered positive external net flows. A good result in challenging macro conditions.
On efficiency, costs have come down a further 1% in the quarter as we continue to simplify the business – an impressive performance in an inflationary environment.
And finally, on sustainability, we're continuing to make a real contribution to communities across the UK. We recently announced a £100m investment in the development of affordable accommodation and university facilities. And our partnership with the Money Advice Trust is helping small businesses significantly reduce their debt.
So, to summarise, we have continued to show very strong, consistent progress throughout the business. Our results today demonstrate, once again, the value in our diversified model. We have grown across our key product lines in Insurance, Wealth & Retirement, and the outlook is positive.
Once again, I want to thank all of my colleagues at Aviva for their hard work so far this year.
Thank you.
Career highlights
Amanda was formerly Group CEO at AXA UK, PPP & Ireland and CEO Europe, Middle East, Africa & Global Banking at Zurich Insurance Group. She also held executive leadership positions at Towergate Insurance Brokers, Groupama Insurance Company and Commercial Union. 
She has previously served as Chair of the Association of British Insurers, Chair of the Insurance Fraud Bureau and President of the Chartered Insurance Institute. 
In 2022, Amanda was included in the Financial Times 25 most influential women of 2022 and in January 2023 named as The Sunday Times business person of the year. Download the article here.
Qualifications and responsibilities
Amanda is an Associate of the Chartered Insurance Institute and has an MBA from Leeds University. She also holds a BA (hons) in history from the University of Liverpool.
In 2020 Amanda led the Government's independent review into flood insurance. 
In 2021, she was appointed by HM Treasury to the role of Women in Finance Charter Champion and has worked with Bain & Company to design an industry-first blueprint with practical recommendations that organisations can use to boost representation across Financial Services.
Amanda was also elected to join the Geneva Association Board, and she is a member of the UK Government's Financial Services Trade Advisory Group. 
In 2022, Amanda joined the Prime Minister's Business Council, which brings together industry leaders to boost jobs and unlock investment, accelerate net zero ambitions, and promote Global Britain. 
Amanda is also Co-Chair of the UK Transition Taskforce, which is developing a gold standard for private sector climate transition plans.
On 1 September 2022 Amanda joined the Board of BP plc, a company listed on the LSE, Frankfurt Stock Exchange and NYSE, as a Non-Executive Director. Amanda will join the BP plc Remuneration Committee and People and Governance Committee as at the 1st January 2023.
You can download a photograph of Amanda from Flickr.
Watch Amanda discuss our Full Year 2022 Results with Bloomberg
Transcript
Anna Edwards: Now let's get to some breaking news here in London. We've got Aviva reporting just a few moments ago, and we have a few lines coming through from the business this morning. Announcing a share buyback of £300 million, which seems to be in line with what analysts were expecting. There was going to be a focus on return of cash to shareholders this time around, and Aviva saying it's on track to meet or exceed its targets and the outlook is still positive. Also getting some numbers on adjusted operating profit. £2.21 billion against an estimate of £1.81, so comfortably it would seem beating those estimates.
Let us get into a conversation about these numbers and beyond. Amanda Blanc joins us, the CEO of Aviva. Amanda, very nice to have you with us. Thank you so much for joining us here on Bloomberg TV. Let me get straight to that outlook because that sounds quite bullish, sounds quite positive. We've seen a lot of concern about costs within the insurance industry. Give us your reasons for optimism then as you say that you are on track to meet or exceed targets.

Amanda Blanc: Okay, so morning Anna. Absolutely brilliant to see you. Yeah, I mean we've posted I think, an excellent set of trading results this morning. We've seen some strong top line growth, which is incredibly positive. Operating profit is up strongly and costs in our business are down, and I think set against the backdrop of the market volatility that we've seen over the last 12 months, we feel very confident about these results, which is why we're saying that we're on track to beat or exceed the targets that we set ourselves.
Anna Edwards: Tell me about where the costs are coming down, Amanda, and I mean, I'm looking at other insurance businesses and looking at some of their general insurance, autos insurance, and there's a lot of fear about costs on the rise there, taking profits out of that part of the business. What's your costs experience?
Amanda Blanc: Yeah, so I mean we started on the costs journey some time ago and we've been incredibly disciplined about the way that we manage the business. Where we are seeing costs out, our property costs are down significantly as we've shrunk our footprint. We've simplified the products in the business. We've simplified the systems in the business. We've digitised and automated a number of our customer journeys. I think good cost performance right across the piece. I think the costs you might be referring to in motor insurance are around the supply chain and clearly the increased costs of repairing vehicles for our customers. Obviously, we got ahead of that very early and we've been able to price for that in our motor and our home pricing over the last 18 months.
Anna Edwards: Do you have that kind of pricing power in a market that is supposedly competitive?
Amanda Blanc: I mean, clearly the market is competitive, but I think obviously we've got an incredibly strong brand. We've got very deep data sets. We're 325 years old, and so we have a lot of data about pricing and our models are incredibly sophisticated. I think we have been able to use those real advantages to make sure that we try to keep ahead as much as we can of this very, very difficult inflationary environment in motor and home, particularly.
Anna Edwards: On other matters, Amanda. I know changes are coming to insurance in the evolution of the Solvency II regulations after Brexit. What kind of pool of capital does this open up for Aviva to invest in ways that it wouldn't have done before? What kind of opportunity does it throw up?
Amanda Blanc: It's incredibly significant for us and for the insurance industry. If the Solvency II reforms come across in the way that they meant to, then for Aviva, we've said that it's an additional £25 billion to invest in UK infrastructure and green energy projects over the next 10 years. It is pretty significant, and for the insurance industry, it's £100 billion. We are very keen that the reforms are put into place so that we can get on with it.
Anna Edwards: Does it in particular encourage money into early stage investment where it might have been more difficult for insurers to put money there before?
Amanda Blanc: I think these reforms, not necessarily. I think there are other areas where we're looking around putting money, if you like, the workplace pension money, auto-enrollment money into venture capital at an early stage. But we obviously have to manage that, the risk that is associated with that and across somebody's lifetime, they obviously want their pension returns to be strong and solid, and so we have to just balance that a little bit.
Anna Edwards: Do you think for the sector as a whole, Amanda, that this is a risk worth taking? We recently heard from the Bank of England Governor who was warning about an increase in risk for the sector by allowing this release of capital.
Amanda Blanc: Yeah, so I saw what the Bank of England Governor said, and what he's effectively said is that the risk increases from 0.5% to 0.6%, of which half of that increase is the release of the risk margin, which the regulator was perfectly happy with. I do not see this risk as significant, and I think it is really important that we help the UK economy and we invest in projects outside of the southeast in the rest of the UK. I think that is our role. We have 16 million customers in the UK and I think it's really, really important that we support them.
Anna Edwards: Can I ask you about the private health insurance market, Amanda, thinking about challenges that the UK economy is facing, that the NHS seems to be almost perennially one of those. What levels of demand are you now seeing in private healthcare as a result of the pandemic and its aftermath?
Amanda Blanc: We are definitely seeing increased demand. Our health insurance sales were up 15% and we expect that to continue. There's very, very strong demand as people are looking for alternative options to the NHS, and I think that's a very positive thing because it takes some pressure off the NHS.
Anna Edwards: Right, indeed. Thinking about UK dynamics, I suppose, Amanda, we're not far from a budget. I wonder from the industry or for the business, are there priorities that you would like the Chancellor to focus on? I mean, clearly we remember the mini budget and a lot has changed since then, and I'm sure the industry will not be wanting to see any repeat of that. I wonder if you have any thoughts ahead of this budget?
Amanda Blanc: I mean, for us, clearly economic stability is very, very important. We saw what happened in the aftermath of the mini budget, so that's a top priority for us. But also we would be keen to see what the government's plans are on their own transition to net-zero for 2050. I think as an insurer, we've made our commitment to net-zero by 2040, but we're keen to see what the government's plan is so that we can actually align our finances behind that. It would be good to see that, and also, where they propose to invest in UK infrastructure projects so that again, we can align our money behind that.
Anna Edwards: Just finally, Amanda, I don't want to leave on a downer, but I know that you've spoken up. It's been International Women's Day of course this week, which I'm sure you've noticed. You've spoken about sexism in the past and the sexism that you've faced in your role. You're also a Women in Finance Charter Champion. You've talked about how your experience of sexism in the workplace has actually worsened over time. I wonder if you can give us your thoughts on why you think that is.
Amanda Blanc: Well, I think it becomes more noticeable when you're in an environment where you recognise that certain things are not acceptable. I think there's a period where you just turn your head and say, okay, I'm going to ignore that. But I think today it's just not acceptable to do that, and so you have to call out bad behaviour. Obviously, we saw some of that last year at our AGM and our AGM is coming up shortly, and we very much hope that we do not see a repeat of that this year.
Anna Edwards: Absolutely. Amanda, thank you very much. Thanks for joining us. Amanda Blanc, the CEO of Aviva.
Important Disclaimer
Although strenuous efforts are made to ensure the accuracy of interview transcripts, Executive Interviews and its associated companies accept no liability for what is said, for any discrepancy between the spoken and written word, or for any errors and omissions. Where doubt arises, please refer to the original broadcast video interview.