Providing a balance
Some days you need a quiet space to focus.
Some days you need to innovate, collaborate and build relationships.
Some days you need a bit of both. 
Smart working is about finding a balance. 
What is smart working?
Smart working is a non-contractual and informal arrangement which means that you will be able to work from home around 50% of your time.
This arrangement may vary from time to time and must always be agreed with your leader.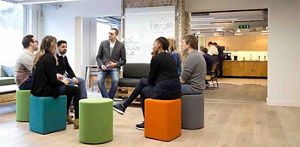 Irene, Compliance & Risk Champion, Aviva Ireland
Irene is more productive at work now she commutes less - and she's financially better off too.
"I thought I had balance before I started working from home some days. But my husband was commuting. I was commuting, up to 2 hours 20 minutes a day. We've got back some of that time to spend with our family. 
Financially we're better off. We've saved on some childcare and commuting costs. A few years ago we spoke about putting a room in our backyard and financially it wasn't possible. Now we've built it. 
Smart working has transformed our lives but I will say, there's a balance to be had. I work in a role where I don't have to be in the office every day. It's good to be in the office for collaboration and work from home some days too."
Louise, ESG Analyst, Aviva Investors
"As soon as I could go back to the office, I went back," says Louise. 
"Working from home in lockdown wasn't easy for me. I lived in central London with my partner in a flat that didn't have a lot of natural light. We shared a living room – he was always on the phone; I was always on the phone. It was just disruptive. 
Ideally, I'd work one day a week from home, meeting-free, to do research and catch up on things. The rest of the week, I'd be in the office. It's changed since the pandemic: there are fewer banks of desks, more big tables and collaboration areas. Quite a few teams have a day when most of them come in.

One of the main things for me is being able to separate work and personal life. Not having my laptop in the living room, reminding me that emails are waiting. My commute is quite short, but it helps clear my mind at the beginning and the end of the day.
Some people love working from home but I miss the interaction in the office. When I walk past people's desks, I'll say hi, stop for a chat, talk about an email. You can't do that on Teams.
My manager is really supportive of everyone's needs. During the pandemic, I asked if I could go back to the office before it reopened and that was made available to me as soon as it was safe. Coming back improved my work-life balance and wellbeing."
Brad, Pension Proposition Manager
Brad "absolutely loves" our Bristol office. Here's why…
Transcript
I absolutely love our Bristol office. It's incredible and it has been such a blessing for me to be able to come in and do my work in the office so as soon as we had that opportunity to come in, I leapt at it.
Some of the big benefits for me are the focused space, coming and sitting at a desk, but also being able to interact with and talk to other people.
I love talking to people and that bouncing ideas off other people has made a huge difference to me.
"I thrive with social interaction and bouncing ideas off other people. 

Being at home leaves me feeling isolated and cut off. I have space to work - a desk built in the cupboard under my stairs - but I find it difficult to focus. It feels like I'm living at work.

There's value in shared working spaces. All those little interactions when there are a group of us together in the same space make things a lot easier. I was stuck with Excel the other day and a colleague turned around and fixed my formula. Just like that. 
Since lockdown, it's been such a blessing for me to be able to come in and do my work in the office." 
Our policy
We believe revolutionising how our people work will improve their work-home balance while: 
continuing to deliver the needs of our business and a first-class customer experience
reducing our carbon footprint and minimising travel where technology can help us achieve a similar outcome
giving colleagues access to the same opportunities, support and development