Our performance shows Aviva has what it takes to deliver strong, sustainable returns for shareholders.
Watch our Group CEO, Amanda Blanc's 2021 full year results video
Sarah Applegate
Thank you for having me here today to talk about the results with you.
So, Amanda, are you pleased with the progress so far that Aviva's made under your leadership?
Amanda Blanc
Sarah, good to be with you again.
Yeah, I'm really pleased with today's results. I think that we've made great progress in the three areas of the strategy that we said we would.
We've completed the disposal programme, which I think is terrific.
We've actually rebuilt our financial strength, which is something that we committed to do, less than 20 months ago.
But I think today I'm so pleased about the actual performance of the group.
If you look at the growth results, they're really strong, but also we've seen the cost reduction that we've committed to.
So I think overall, really good operating momentum, and I'm very, very pleased with that.
Sarah Applegate
Can you give us an update on how much capital we're going to be returning to shareholders?
Amanda Blanc
I can. If you remember, we said that we would be returning at least £4 billion to shareholders but I'm really pleased that today we can say that we will be returning £4.75 billion to shareholders, which I believe is a very, very good outcome.
And as well as that, I'm very pleased that due to the value that's being created by all of the people, all of our colleagues at Aviva, each of our colleagues will get £1,000 of free shares, which shows that we really value their commitment to the group.
So even after returning £4.75 billion, we have the capacity and the confidence to invest in the business and what we show today is that we will invest £300 million to accelerate some of the great growth opportunities that there are in the market. But we will also invest £200 million in the cost and efficiency of the business which will help us of course to grow the profitability.
Sarah Applegate
So how did Aviva's core businesses perform in 2021?
Amanda Blanc
Each of the core businesses made a really great contribution to 2021.
So let's look at each of them in turn.
If we look at the Life company and the Savings and Retirement business, £10 billion of net flows in 2021, that's a really terrific achievement.
We saw robust margins in the BPA business and volumes at over £6 billion, which I think is great.
In the General Insurance business, both in Canada and in the UK, the volume is now £8.8 billion of gross written premium, which I think we're all incredibly pleased with.
Aviva Investors made good progress on reducing their costs, which was a key challenge for them during 2021 and their fund performance improved.
And overall, we saw our costs come down because I think we were always conscious of the fact that we needed to be more efficient for the benefit of our customers and I think we've started to really see that come through.
Of course, cash is key to Aviva's results, Sarah, and the cash remittances are up 22%. So a very, very strong performance.
Sarah Applegate
So given Aviva's performance and outlook, what does this mean for shareholder dividends?
Amanda Blanc
Well, today we're announcing that the final dividend for 2021 is just over 22p, which is 5% up on 2020.
So I think that's very good news for our shareholders.
We're also today announcing an updated dividend policy. And I think it shows the real confidence that we have in the group going forward. It's very attractive but also sustainable.
Sarah Applegate
What are the main priorities for 2022 and beyond for Aviva?
Amanda Blanc
We see so many opportunities in the markets in which we operate, UK, Ireland and Canada, in the wealth space and in the general insurance space and the opportunity for the Life company to work together with Aviva Investors I think really plays to that.
So we're really confident that the macro growth opportunities and the Aviva capabilities sit side by side.
So we've announced today the acquisition of Succession Wealth.
One of the areas that we've long spoken about is our desire to really bolster our capabilities in the advice space and Succession Wealth does just that. So we're really pleased to welcome the Succession team to the group.
I'm very excited that this gives us a great enhancement to our current capabilities in this area.
So the second priority for Aviva is around our customers. We have over 18 million customers across the group. And what we want to do is make their experience of dealing with Aviva easier.
So whether that's in the way that we transact our business with them, whether that's digitally or over the phone, or in the simplicity of the products that we provide to them.
We know that financial services can be a complex space. We have a real opportunity to make a big difference to our customers in the way that we present those products to them.
In the way that we build those products sustainably, I think that that is what customers are looking for.
We have a very strong ESG proposition and we're making sure that we would build that into the products that we develop.
Our third priority area is around efficiency. Aviva is often being accused of being a complex organisation. It's not so complex today. We have the UK, Ireland, Canada and Aviva Investors.
So we've simplified the portfolio, now we need to simplify the businesses within the portfolio and you'll have seen we've made great progress on the cost reduction.
That means that we have less products. It means we have less systems. So we're simplifying the business, and that will have a good impact on our customers because our cost to serve those customers will be reduced.
And finally, our fourth priority is sustainability.
Aviva has a strong history in this area, and we don't want to become complacent. We want to continue to build on that. We're building sustainable products in the wealth business. We are having fantastic success in the funds that the Aviva Investors team are launching and we will continue to look for more opportunities, as we'll have seen in the last week with the launch of Aviva Zero, which is our net-zero proposition for motor insurance.
So we continue to build upon that and I think play a really important role in society by our infrastructure investment, which is, of course, all part of the levelling up agenda in the UK.
Sarah Applegate

So you announced some upgraded targets today. Can you tell me a bit more about those?

Amanda Blanc
Yes, so I think it shows the confidence we have in the outlook for the group that we've been able to do that.
The first is cumulative cash remittances, over the next three years of greater than £5.4 billion.
The second target is a growth target. It's a new target and it's on own funds generation and the target is to be at £1.5 billion by 2024.
The third target is on cost reduction, where we've upgraded our current target to £750 million gross of inflation.
Sarah Applegate
So if you could possibly whittle it down to a few key takeaways for people listening to our 2021 results, what would they be?
Amanda Blanc
So we've made really rapid progress and I think that's a good thing because that allows us to now move on.
And the next phase is about delivering Aviva's promise. And that's where the whole of Aviva, whatever part of the organisation you work in is going to come together to deliver for our customers.
So I guess the final thing I would say is just thank you to everybody for everything that they've contributed to get us this far.
Delivering our promise
Our promise
This year we have made good progress on our journey to transform our performance. We have built strong growth momentum across our core businesses, enhanced our customer experience and materially reduced our cost base. At the same time, we have strengthened the Aviva masterbrand, invested in innovation and launched a market-leading sustainability ambition. Looking ahead to 2022, our focus will be on accelerating the next phase of our transformation.
Download Delivering our promise
Targeted growth
In General Insurance we have opportunities across UK, Ireland and Canada. In UK Commercial, we aim to increase our share in mid-market and expand across corporate & speciality. In UK Personal, we are aiming for market leadership, focusing on retail and speciality. In Canada we are focused on digital direct and growth across commercial lines.
In our Life business, we have a number of exciting growth opportunities. We will build a leading Wealth business by strengthening our Workplace and Retail propositions. We will grow our BPA business in a capital efficient manner and support our social purpose by investing in the UK. In Protection & Health, we will grow through extending our distribution reach.
In Aviva Investors we will capitalise on growth opportunities both with UK Life and externally through our strengths in ESG, real assets, solutions, multi-assets, sustainable equities and credit.
Our progress in 2021

increase in S&R net flows to £10.0bn
increase in Aviva Investors external net flows to £3.3bn
Customer focus
As the most trusted UK insurance brand, we have outstanding brand strength. We will look to drive value from this through further deepening the emotional connection to the brand and leveraging this across our businesses.
We are enhancing our customer experience through improving digital customer journeys, building engaging mobile-led experiences and harnessing data to better meet customer needs.
We are innovating to meet the changing needs of our customers. We are doing this through a combination of venture building, where we work closely with InsurTechs and FinTechs to build new customer propositions, in-house rapid proposition development and venture capital investing.
Our progress in 2021
year-on-year increase in MyAviva registered customers
year-on-year increase in MyAviva logins
of capital deployed into start ups
Top quartile efficiency
We have made significant progress on efficiency, reducing costs1 by £244 million and putting in place all of the actions required to meet our £300 million target in 2022, one year earlier than planned. Efficiency will continue to be a key focus going forward, with all of our business units targeting top quartile efficiency by 2024.
We will continue to simplify our technology estate, removing legacy systems and applications, and improving our overall operational resilience, customer service and agility. We will digitise and automate our customer journeys, making it easier for our customers to interact with us.
Simplification of our product portfolio will remain a key focus area as we rationalise the number of product variations we offer. We will also continue to reduce our property footprint and focus on the simplification of our organisation through optimised outsourcing and improved cost discipline.
1 Controllable costs from continuing operations, excluding cost reduction implementation and IFRS 17 costs.

Our progress in 2021
reduction in UK IT applications
of UK customer journeys digitised and automated
reduction in property footprint
(by square ft)
Leading on sustainability
We are at the forefront of taking action against climate change, with a market-leading ambition. We will make progress towards our ambition through tangible actions across our operations, investments and underwriting.
Our sustainability ambition also encompasses building stronger communities. We will do this through investing £10 billion in UK infrastructure and real estate, investing 2% of our profits in the community, and helping the UK with their savings and retirement needs.
We will also ensure we continue to operate as a sustainable business, and will always strive for the highest standards of ethical conduct, acting responsibly and transparently at all times.
Our progress in 2021
major insurer globally to commit to Net Zero by 2040
2021 pre-tax profits invested in communities
invested in UK infrastructure and real estate
Our purpose
Our purpose is 'with you today, for a better tomorrow'.
It demands Aviva acts as industy leader and ultimately becomes the UK's 'go-to customer brand'.
Performance highlights 2021
As we emerge from the pandemic, I am confident that we have positioned Aviva to succeed.
Financial highlights 2021
Cash remittances‡, R
2020: £1,500m

Solvency II operating own funds generation‡, R
2020: £1,691m

Estimated Solvency II
Shareholder cover ratio‡,R
2020: 202%

Group adjusted operating profit‡,1,R
2020: £3,161m

IFRS profit for the year
2020: £2,910m

Solvency II debt leverage ratio‡
2020: 31%

Non-financial highlights 2021
Operational carbon emissions reduction since 2010
2020: 76% 

5
Customer Net Promoter
Score® (NPS®)R
Number of markets2 at or above average:
2020: 5

R Symbol denotes key performance indicators used as a base to determine or modify remuneration.
‡ This is an Alternative Performance Measure (APM) which provides useful information to enhance the understanding of financial performance. Further information on APMs, including a reconciliation to the financial statements (where possible), can be found in the 'Other Information' section.
1 Group adjusted operating profit is an APM which is used by the Group to supplement the required disclosures under IFRS. Please see note B in the 'Accounting Policies' section of IFRS Financial Statements and the 'Other Information' section for further information.
2 Total markets is 5. Excludes discontinued businesses for 2021 and 2020.
Our Chair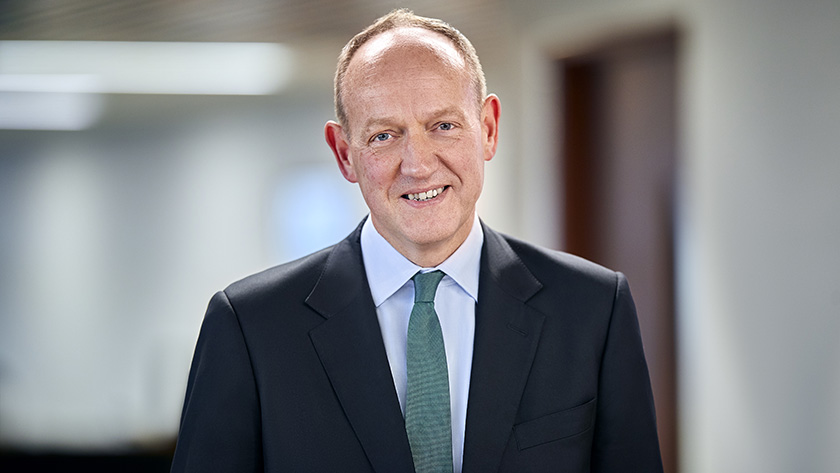 "2021 was the year Aviva began to deliver on its promise to become the business that our customers, people and shareholders deserve it to be. In many ways it feels like a new Aviva. Our work to focus the portfolio is now complete and we're concentrating our efforts where we are best placed for success

."