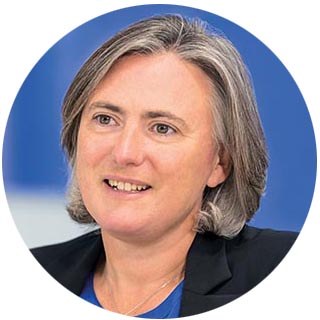 Angela Darlington
Chief Executive Officer, UK Life

On 15 December 2020 we announced that Angela Darlington has decided to leave the company and will continue with Aviva until April 2021. Read the full announcement.
On 6 June 2019 we announced that Angela Darlington is appointed Interim Chief Executive Officer of UK Life. Read the full announcement.

Angela joined Aviva in 2001 and was appointed Group Chief Risk Officer in July 2015. In this role she was responsible for leading the Risk Function and as part of the role chaired the Group Operational Risk Committee.

Angela is a Director of a number of Aviva's subsidiary boards and is also a member of the Actuarial Council of the Financial Reporting Council.
Prior to becoming Group Chief Risk Officer, Angela was the UK Life Chief Risk Officer for three years and has also held a variety of actuarial roles during her career within Aviva, including UK Life Chief Actuary.
Before joining Aviva in 2001, Angela was a Life Insurance Consultant working with Bacon & Woodrow for six years and qualifying as an Actuary in 1994. Angela worked with William M Mercer for a further six years and during her time as a Consultant, worked on wide variety of actuarial assignments across many countries.
You can download a photograph of Angela from Flickr.